EXPAND
Member Spotlight

Contacts N' Coffee - February 2020 Edition!
Free Event
Tuesday, Feb 25 8:00am - 9:30am
The Original Alamo Tamales
809 Berry Rd.


Houston, TX 77022

Event Contact


James Montalbano


713.370.9662
james@northsidechamber.org
Take the opportunity to meet like-minded professionals (And, perhaps, an elected official, an executive director, etc..), be provided ample time to explain to all of the attendees what it is that you do and what entities would make great referrals for you and maybe even learn a thing or two. Bring your business cards and be prepared to shine! Personal interaction remains the best way to develop SOLID BUSINESS CONNECTIONS!
This event is open to all Chamber Members, their guests and anyone else who may be interested in the Greater Northside Chamber of Commerce.
Our Featured Presenter will be Rosalinda Martinez, Associate State Director of Outreach & Advocacy at AARP!
Although AARP is a very strong advocate for our senior community, they are so much more. Learn more about what AARP can do to assist businesses and their interests, those who have to become caregivers for their senior loved ones and how to better prepare for our own senior years.
As our nation's largest non-profit entity, AARP has many resources that they can offer most all of us. Rosalinda can assist us in how to most effectively utilize these resources!
ABOUT ROSALINDA
Rosalinda currently serves as the Associate State Director of Outreach & Advocacy at AARP, the nation's largest nonprofit. AARP is a nonpartisan organization with 38 million members nationwide and more than 2.3 million members in Texas dedicated to empowering people 50 and older. In her role, Rosalinda is charged with implementing campaigns and outreach strategies towards improving the quality of life for older Americans in Houston.
Prior to her role at AARP, Rosalinda served as the Vice President of the Houston Hispanic Chamber of Commerce, the largest Hispanic Chamber in the United States. As Houston's demographics shifted, Rosalinda saw the opportunity to train the young leaders of tomorrow. She played a key role at the Houston Hispanic Chamber of Commerce in starting the Emerging Leaders Institute, an initiative to connect and develop young professionals. At the Houston Hispanic Chamber of Commerce, Rosalinda has conceptualized and developed programs to align with corporate community strategies. In her role at the Chamber, she also managed operations for the Greater Houston Hispanic Chamber of Commerce Foundation.
She holds a Master in Business Administration from the University of Houston – Downtown and B.A. in Communications and Spanish from the University of Houston. Rosalinda is a proud Board Member of Kids' Meals, Leadership Houston Class XXXVIII member, Committee Member for the Hispanic Association of Colleges and Universities Lanzate Program and community volunteer with local non-profits and organizations aimed at keeping Houston a region of opportunity.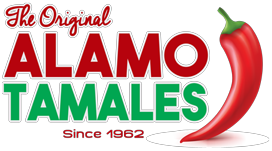 We are excited to, once again, present our Contacts N' Coffee event at Alamo Tamales! Co-Owner Cynthia Rivera and her staff are the most gracious of hosts and will provide us with an incredibly delicious breakfast that is such a treat to start the day with. Upon conclusion, be the most popular person at your office and/or home by bringing a dozen or two of our region's best tamales to go with you!
* Active Silver-Level Chamber Members on up will receive one complimentary breakfast per company.
ABOUT ALAMO TAMALES
Alamo Tamales has been in business for over 50 years. Originated in San Antonio, but very soon after moved to Houston, Tx. Beginning with a small loan and grew from there. We have two locations, one near Downtown Houston one on Berry Rd. Our Tamales became so popular in the Houston area over the years, that we were able to expand our Berry Rd. Location, to the Alamo Plaza you visit today.
We use family recipes from our grandmothers. The spices we use are purchased whole and then we grind them so the spices perfume is left in the tamale. Our best seller is the homemade Pork. They are also available in Chicken, Beef, Jalapeño and Cheese, and Bean. We offer both home made and machine made tamales. During the holiday season we offer Sweet Tamales. We have very strict sanitation procedures to insure the quality of our food is excellent. All our food is fresh, made daily, homemade style.
Thank you to our community and our friends for joining us on this journey, and we hope that you'll continue to be a part of the Alamo Tamales story.