EXPAND
Monthly Member Spotlight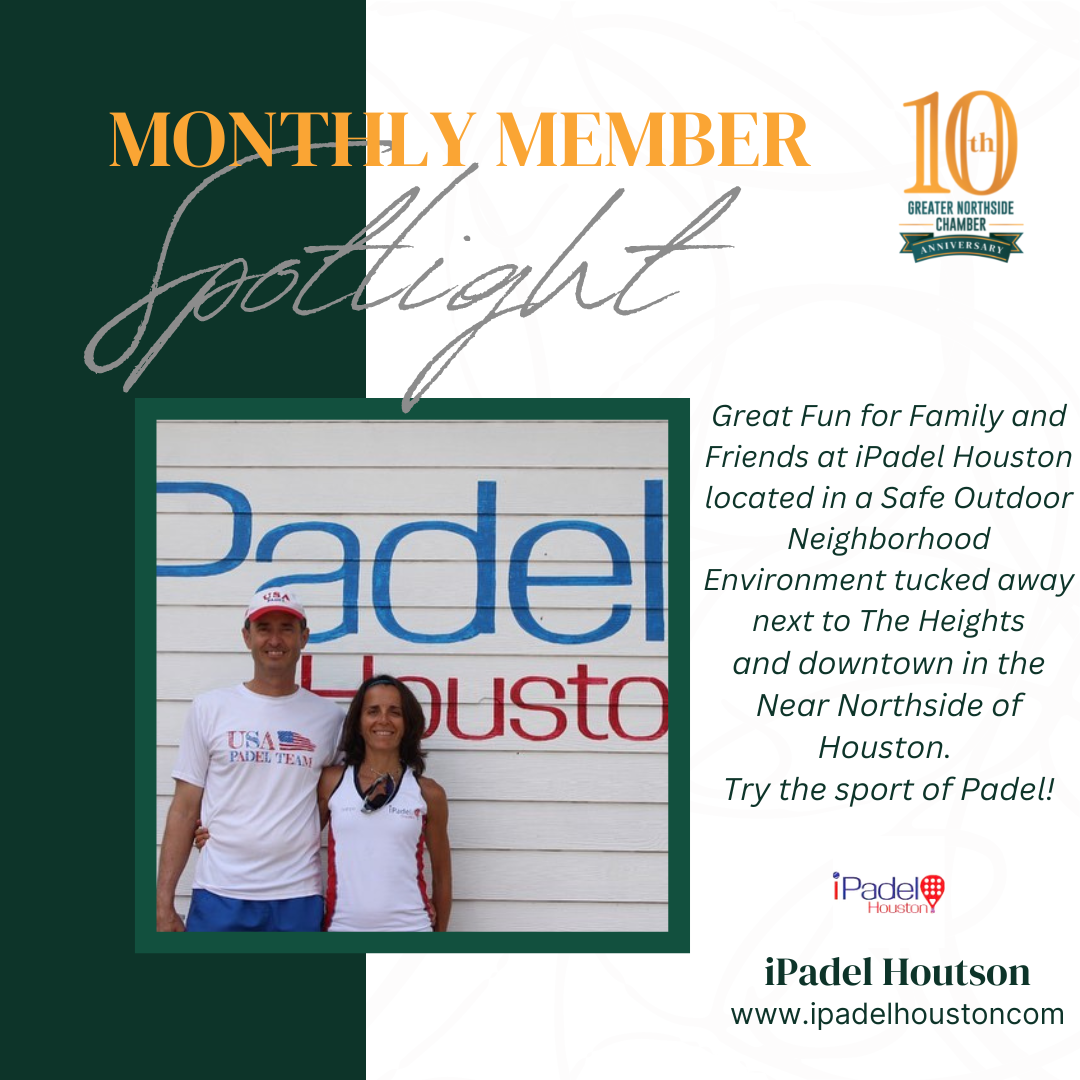 This Month's GNCC Member Spotlight is iPadel Houston, owned by Belen Salcedo
Belen, Tell Us About Your Business.
We opened in 2017 and offer great fun for Family and Friends at iPadel Houston located in a Safe Outdoor Neighborhood Environment tucked away next to The Heights and downtown in the Near Northside of Houston. Try the sport of Padel! Padel is a combination of tennis, racquetball and some elements of pickleball. iPadel is so much fun you do not even realize that you are getting a great cardio workout. For all ages. iPadel Houston offers the following: Online Reservations and Equipment Social Events Parent/Child events Lessons and Clinics Tournaments Leagues Corporate Events
Birthday Parties Free 15 Minute introduction
Tell Us About Yourself and Your Experience.
I study law and I did a master in Marketing. I was working in a law office and then I moved to Marketing. I was working in a media agency for 2 years. The economic situation was no good in Spain so I decided to go abroad. I went to Canada first ( Vancouver) wonderful place. I started to promote padel being the Vice president Marketing at Padel Association in British Columbia. I decided to play a tournament in Kelowna (Canada) and I met some people from Houston. They invited me to go to Houston and I did. I came to Houston and I met my actual husband! 
I started to be a padel coach 5 years ago in Houston, teaching padel classes to women, men and kids. I did a training for a week in Madrid Spain with Maximo Castellote. Another training for a week in Houston with Diego Pezzoni. For a weekend I was doing a Physical Preparation in padel in Madrid by Antonio Portillo. In 2019 I did a course to certify as a a padel coach in USA by Mike May, the USPA and USPTA. Training with Marcela Ferrari 
I am super excited and full of energy promote padel and fullfilling my dream working in my own club. Let me introduce iPadel Houston located in Houston downtown. Everybody is very welcome!    
Tell Us About Your Experience as a GNCC Member.
It's been a great experience! The people that I've met are so nice.
What Area Do You Need Assistance With As A Business Owner?
I need assistance with signs, painting the fence positives messages, and networking! Reach out to us if you offer any of these services. 
How Can People Find Out More About Your Company?
Follow us on Instagram at @ipadelhouston or visit us online at www.ipadelhouston.com.